Why is Lake Ontario so high?
If it makes you feel better about your soggy basement, Lake Ontario is higher this year at least in part because someone downstream is in even worse shape.
Hamilton's home lake hit historic heights June 1 and kept rising to 75.92 metres above sea level before stabilizing in recent days. That's close to 90 centimetres above average.
That record is partly the result of May efforts by a board of control to "slow the flow" out of Lake Ontario via a dam at Cornwall, said Robert Caldwell, the board's Canadian secretary.
Stockpiling water behind a hydro dam offered relief to thousands of flooded homeowners downstream along the St. Lawrence River near Montreal, where a swollen Ottawa River also empties out. But it also drove up water levels on Lake Ontario, to the dismay of nearshore homeowners.
"We're trying to balance flooding impacts on people upstream and downstream, and there are not a lot of levers," said Caldwell. He noted there is no control dam for Lake Erie, which has dumped record flows into Lake Ontario.
MORE: Waiting for the wave
The board has now opened the spigot at the Moses Saunders Dam to allow more than 10,400 cubic metres of water per second out of the gates — a rate so high it affects navigation on the St. Lawrence Seaway.
But the larger problem, experts say, is too much water just about everywhere this spring.
Lakes Erie and Superior also hit record heights this spring. More rainfall than normal, combined with huge snow melt, swelled not only the upper lakes but also the Ottawa River.
Can you blame all that extra water on climate change?
Not necessarily. The Great Lakes rise and fall in cycles. Six years ago, waterfront residents worried about record low water levels on some lakes.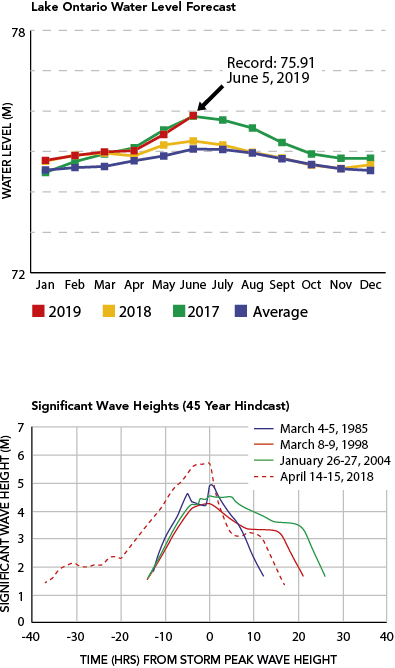 But models suggest we should brace for severe weather, earlier spring melt cycles and "more extreme" lake level highs and lows, said Brock University professor Liette Vasseur, who is studying climate change impacts on coastal cities.
Critics still argue the board of control could have anticipated the high water levels and allowed Lake Ontario to drop further late last fall.
Some politicians — particularly on the U.S. side — blame a relatively new set of lake level regulations, dubbed Plan 2014, which are meant to allow Lake Ontario to rise and fall more naturally to aid wetland preservation. This week, Hamilton Liberal MP Bob Bratina also called for a review of those regulations.
Caldwell, though, says the board is in a "pick your poison" situation thanks to the unique pinch-points in the St. Lawrence River.
Taking a foot off the top of Lake Ontario in a hurry, for example, would cause water levels to spike near Montreal. At the same time, levels would drop dramatically near the dam — the area Caldwell calls "the drain in the bathtub" — and endanger drinking water intakes.
"We don't believe the (regulatory) plan is to blame," he said.
Related:
Lake Ontario's water levels are rising. Here's why that threatens Hamilton.
Menacing the Islands, Lake Ontario has risen to its highest level on record
City of Hamilton battles rising water levels
'Visually stunning' ice wall is a risk to public safety, says Niagara Parks Commission
mvandongen@thespec.com
905-526-3241 | @Mattatthespec
905-526-3241 | @Mattatthespec