Many Ontarians don't know what they'll do after COVID-19 assistance ends: study
Two out of every five Canadians receiving financial assistance as a result of the pandemic don't know what they'll do when it ends, according to a new study by the Angus Reid Institute and Credit Canada.
The "Canadian COVID wake-up call" studied 1,500 Canadians and found uncertainty about the future was highest among people between 35 and 54 years old.
Overall, the COVID-19 pandemic has led one in four Canadians to rely on income supports like employment insurance (EI), the Canada Emergency Response Benefit (CERB) and the Canada Recovery Benefit (CRB), and one-in-10 to use payment deferrals for loans, lines of credit, rent and bills.
Veronica Gonzalez, who lives in Hamilton, joined the 24 per cent of Canadians using pandemic income supports after she lost her job as a technical draft person in the architectural design industry in June. She received CERB and transitioned to CRB — which provides $900 bi-weekly, after tax — after the former benefit ended on Oct. 3. She also advocates on behalf of low- and moderate-income Ontarians as chair of the Hamilton Mountain chapter of non-profit economic justice group ACORN Canada.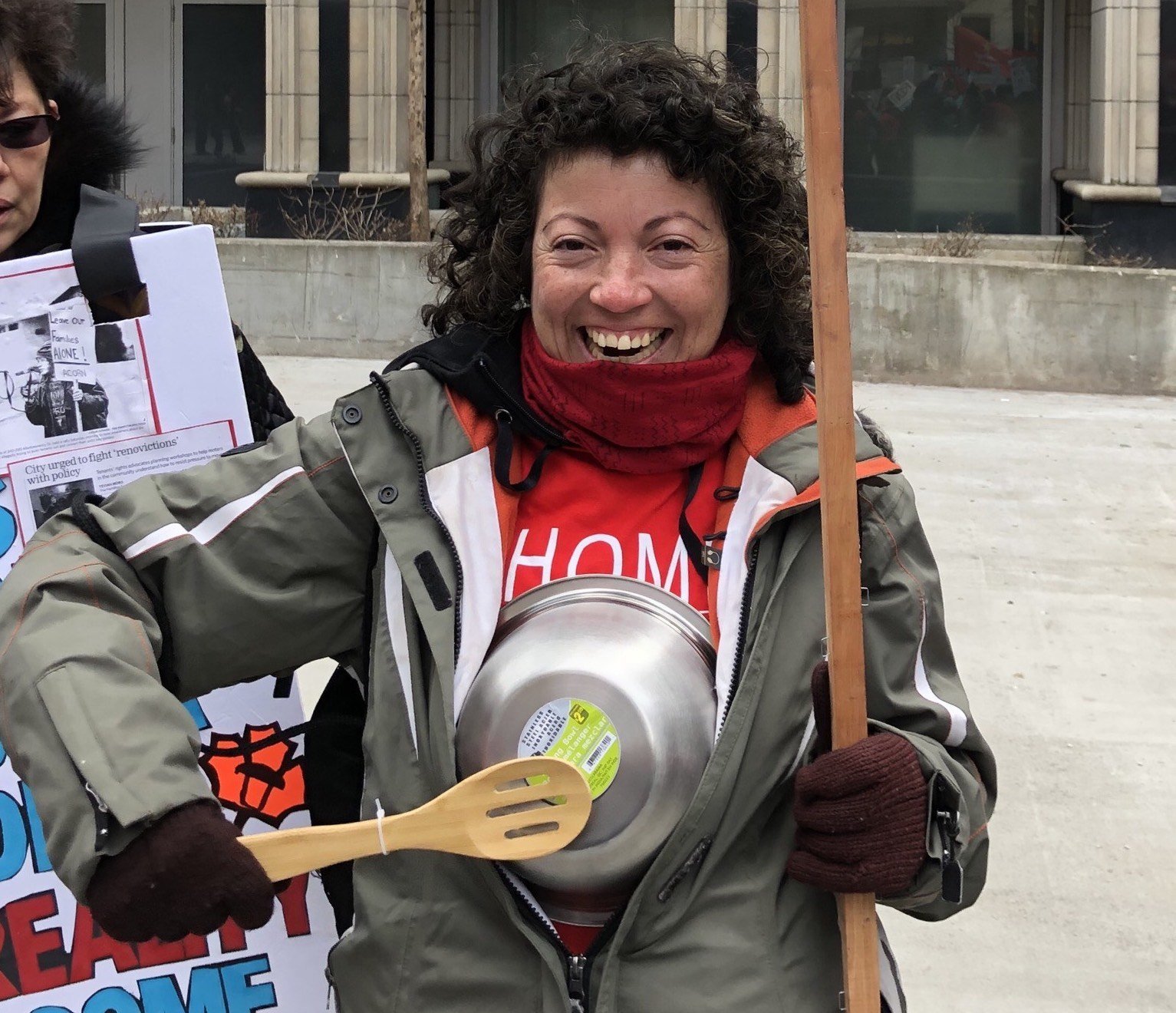 Veronica Gonzalez, ACORN co-chair for Hamilton Mountain, marches in a rally to demand rent freezes in Ontario. - Hamilton ACORN photo
She said the study's findings reflect her experience and those of the people she interacts with, many of whom are also relying on income supports. While she has a plan for when CRB ends — on Sept. 25, 2021, or after 13 two-week periods — that plan depends on factors like the availability of work.
"I'm just trying to really see where the jobs are, where the industries are going," she said. "Everything's uncertain right now. The only plan people have is to look for a job, but there's no jobs."
Although Ontario's labour force increased by 1.1 per cent in September, 757,400 people were unemployed across the province that month, according to the provincial government's latest market report.
Beyond job hunting, Gonzalez is preparing for life after CRB by learning about the community supports available in her neighbourhood, should she — but especially her friends or neighbours — ever need help with food, counselling or financial support.
"I'm worried about other people. I'm not too worried about myself. I'm just going with the flow and I've been lucky," she said. "But people are really scared. Some people are still in debt and struggling to pay rent, because $500 a week isn't enough to pay a $1,200 or $1,400 rent, on top of transportation, food and health."
According to the "Canadian COVID wake-up call," one in 10 people surveyed said they would turn to borrowing money through family loans, bank loans and credit cards in order to address their finances once income supports and payment deferrals have ended.
Gonzalez, like other ACORN members, wants to see the federal government implement permanent updates to the EI benefit system that would improve access to the benefit for Canadians both when CRB ends and beyond. ACORN Canada proposes changes that would:
• Ensure a quick and smooth transition from CRB to EI or other benefits
• Expand EI eligibility criteria to make it accessible to more Canadians, including those working with reduced hours
• Modify EI rules so that the Working While on Claim Benefit is accessible when there is a large reduction in work hours due to COVID-19
• Create a rent relief benefit or additional benefit for people who lose access to CRB and aren't earning enough to pay their rent
"The big scare for people with benefits is not just job security but home security," she said. "So maybe the government can drop in a benefit like a rent relief, to make sure people don't lose their homes."