Apple and Google are not spying on you through a COVID tracking app
Rumours that Apple and Google have installed a COVID-19 tracing app on users' iPhones and Android phones without their permission are not true.
The claims spread through social media in June after the two software giants jointly released a software update that added a new feature to users' smartphones.
People who heard the rumour and checked their phones may have been surprised to see the new COVID-19 exposure notification feature under their privacy settings, but this is not a tracking app. Rather, it's an application programming interface (API) designed to help COVID-19 contact tracing applications, which have yet to be developed in many countries, work with phones once they're available.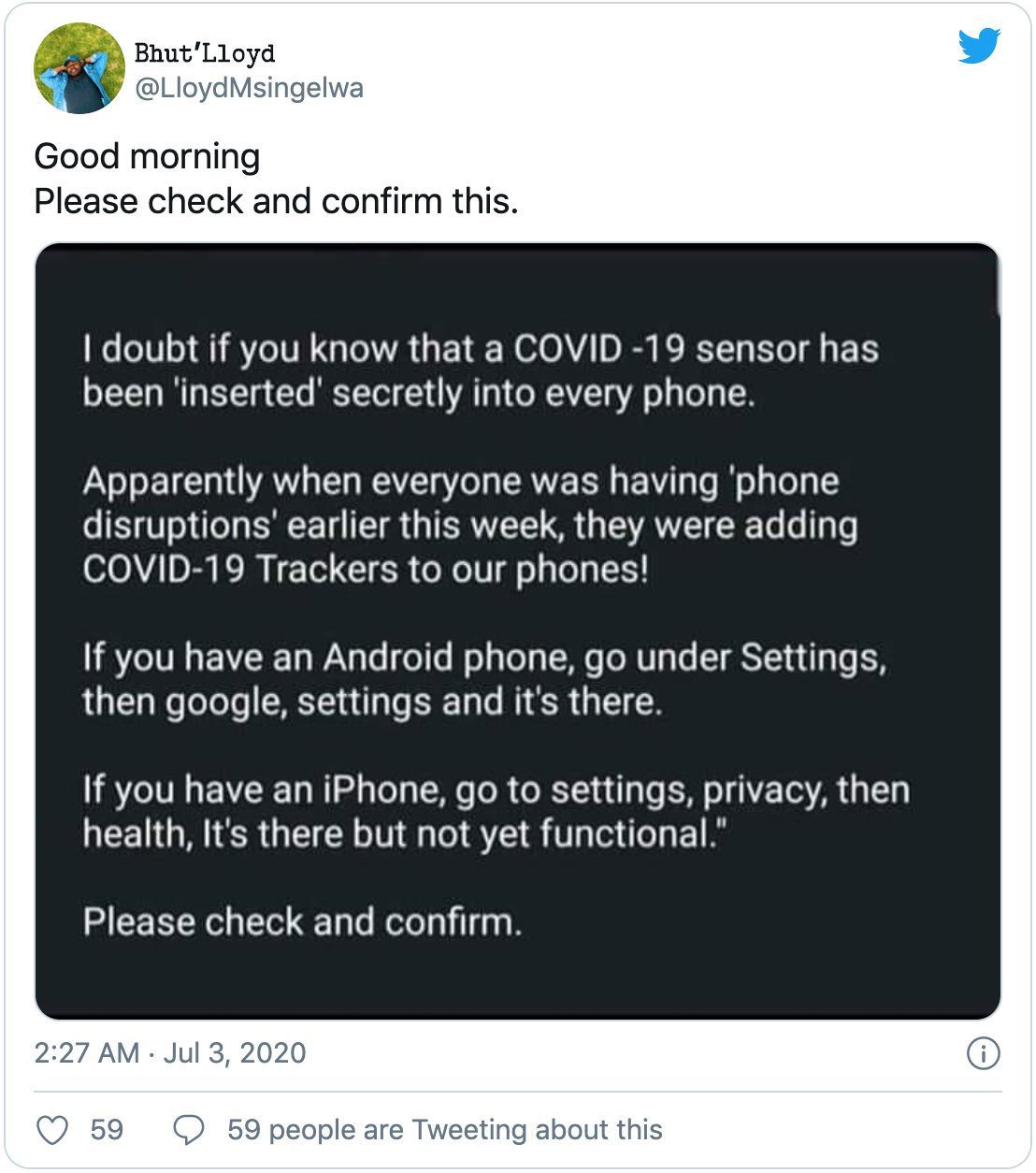 Twitter/@LloydMsingelwa
"What we've built is not an app—rather public health agencies will incorporate the API into their own apps that people install," said a joint statement issued by Apple and Google. "Our technology is designed to make these apps work better,"
According to Apple and Google, the API framework will work with official apps created by public health agencies to track exposure to the virus. Users can only activate it after installing a compatible app, and use is voluntary.
The system works by assigning random Bluetooth ID numbers to users' smartphones that change every 10 to 20 minutes in order to protect their privacy. These ID codes are exchanged via Bluetooth between phones using the system, and remain on the phones unless a user voluntarily records a COVID-19 diagnosis in the app using an official verification method.
If neither person records a COVID-19 diagnosis, the IDs are stored on the phones and are not shared to a centralized database server.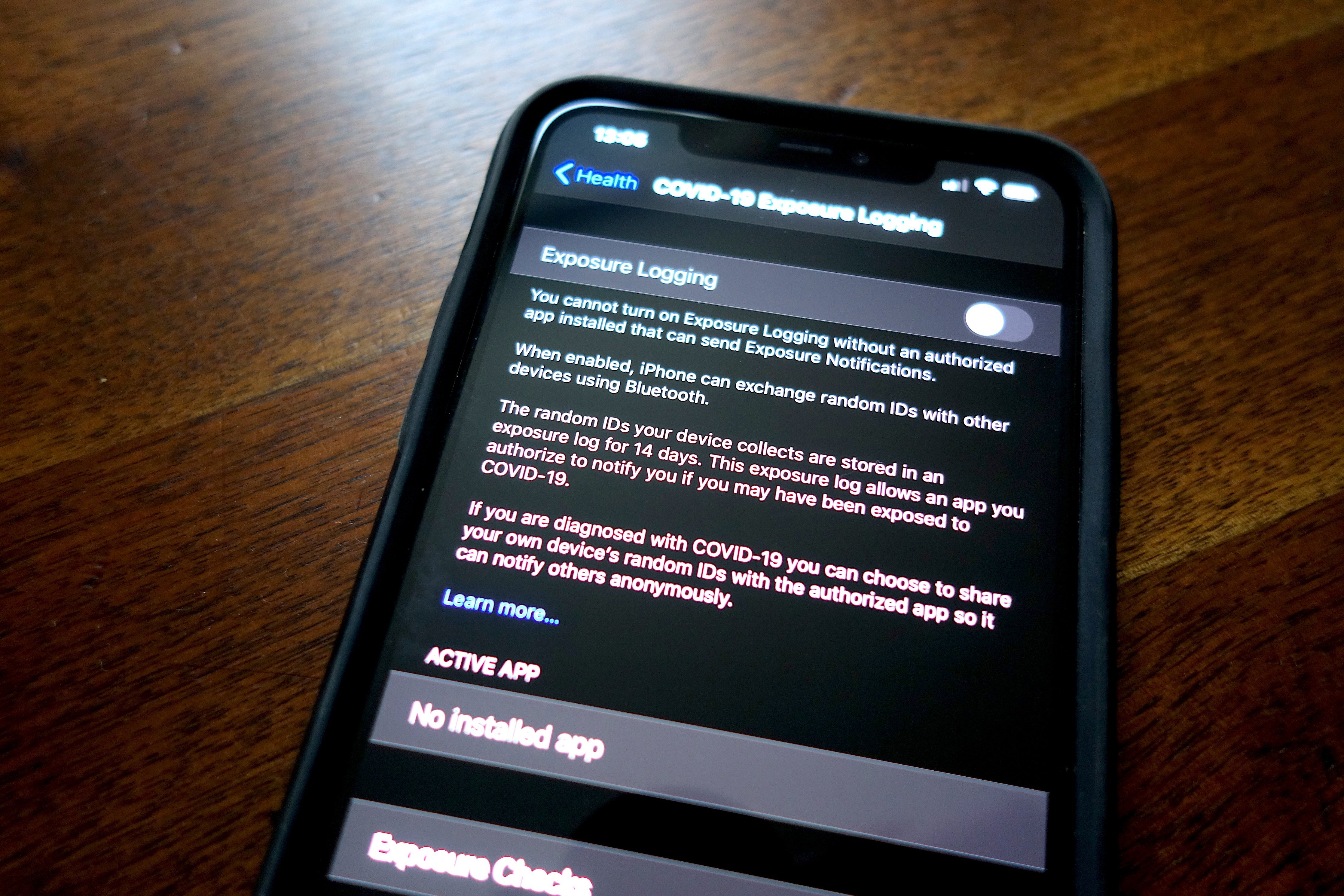 iPhones and Android phones with up-to-date operating systems now include an application programming interface (API) for COVID-19 tracking apps. The interface is not an app, but rather a framework that will allow such apps to function with the phone's operating system. - Torstar file photo
If you stand next to someone in line at the pharmacy, and you both use an exposure notification app, your phones will exchange IDs. If the other person becomes sick, enters a verified COVID-19 diagnosis into the app and consents to having their own random ID codes from the last 14 days broadcast to the central database, you and anyone else they had contact with during that time will be notified of the exposure. Users' identities and locations remain anonymous.
There are some concerns around the framework's efficacy, though.
Users have the ability to opt in or out of the system any time, but the system relies on enough people adopting it to work.
Those who decide not to use the framework will not be notified on their phone if someone around them tests positive for COVID-19, nor will they be able to notify others anonymously using an app.
Further, the API was installed in recent updates to iPhones and Android phones, so people with older phones running older operating systems don't have access to it. Because the system only works with newer smartphones, segments of the population who don't own newer devices, or who aren't technologically inclined, aren't able to use it.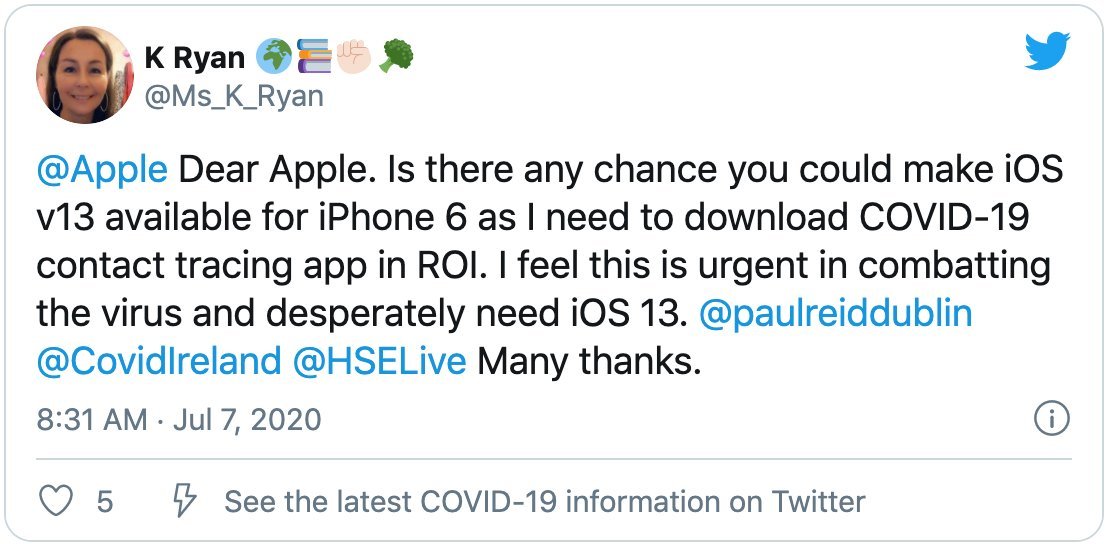 Twitter/@Ms_K_Ryan
Ireland joined several countries already using the API when it launched its COVID Tracker Ireland app on July 6. Prime Minister Justin Trudeau announced on June 18 that the Canadian Digital Service was developing a Canadian app.
"As we move forward with restarting the economy, we must keep working together to prevent the further spread of COVID-19," Trudeau said. "This new mobile app will put the privacy of Canadians first, and act as an extra measure of safety to help protect our families and communities from the virus."
The app, COVID Alert, was set to launch first in Ontario on July 2, but the launch has since been delayed.
For more information about how exposure notification works, see the frequently asked questions document shared by Apple and Google.