Rules may be rules, but there's never a good reason to not drive a MINI. And there's nothing like a John Cooper Works package to remove all reason from my brain in favour of adrenaline-spiking emotion.
Sure, you could argue that the MINI lineup has been bloating bigger with every evolution of product but the brand has maintained the distilled essence of nimble, go-kart-like responsiveness that has always been part of the MINI mantra.
And adding John Cooper Works (JCW) enhancements just pushes that essence closer to the edges of the power and handling envelope.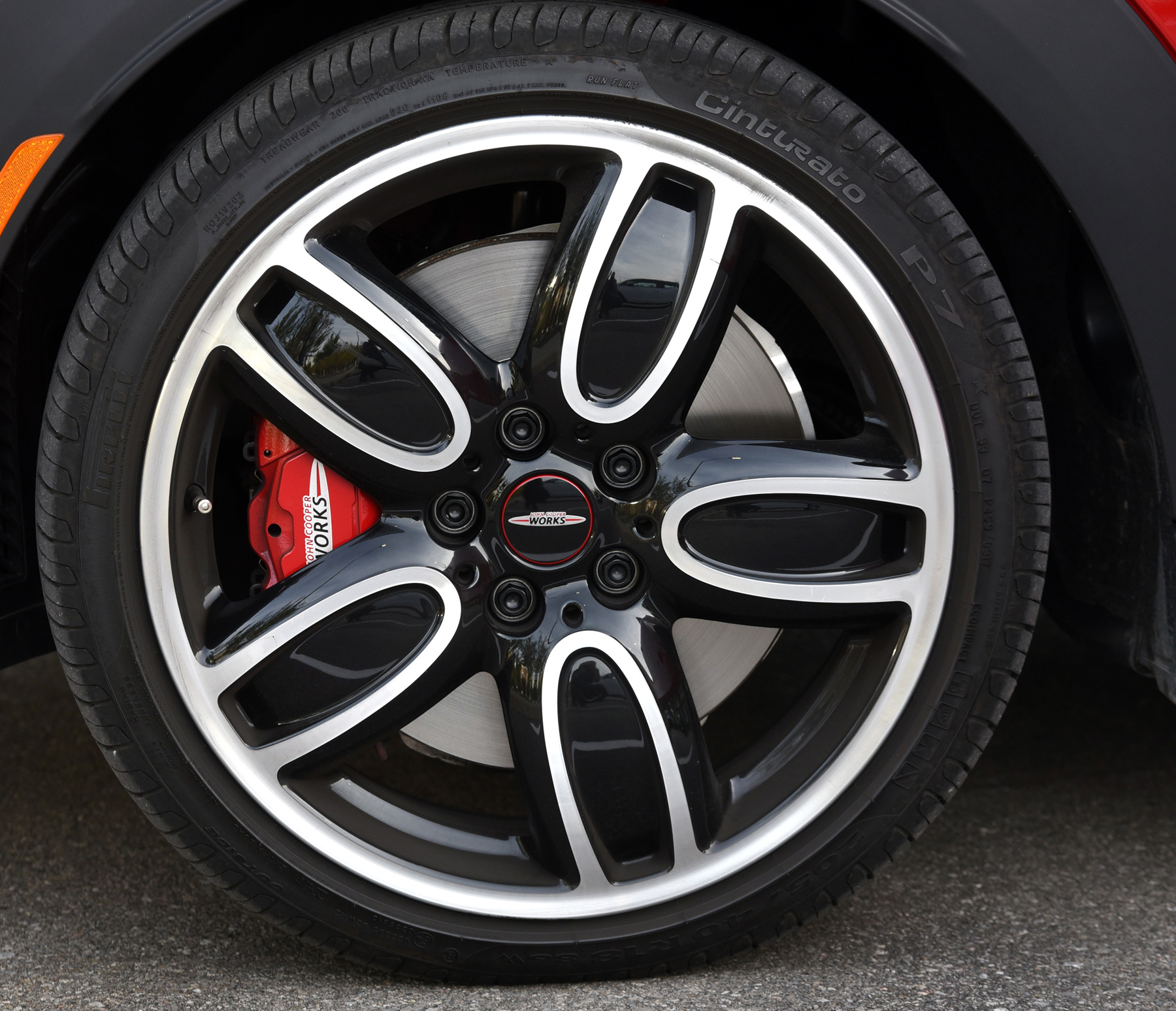 As tested, the MINI John Cooper Works adds optional 18-inch JCW Cup Spoke two-tone wheels with performance rubber.
--
The 3-door MINI coupe was the first modern reinterpretation of the original 1959-2000 Mini and today's version comes available in three varying strengths – 134 hp MINI Cooper ($22K), 189 hp MINI Cooper S ($26K) and the 228 hp MINI John Cooper Works ($34K).
Which gives you a nice mix of price points and performance levels tailored to any budget.
Now, jumping to the JCW level might feel like blowing the budget, or, some might argue, be a case of having more money than brains, especially in this as-tested instance with a $50K final price tag.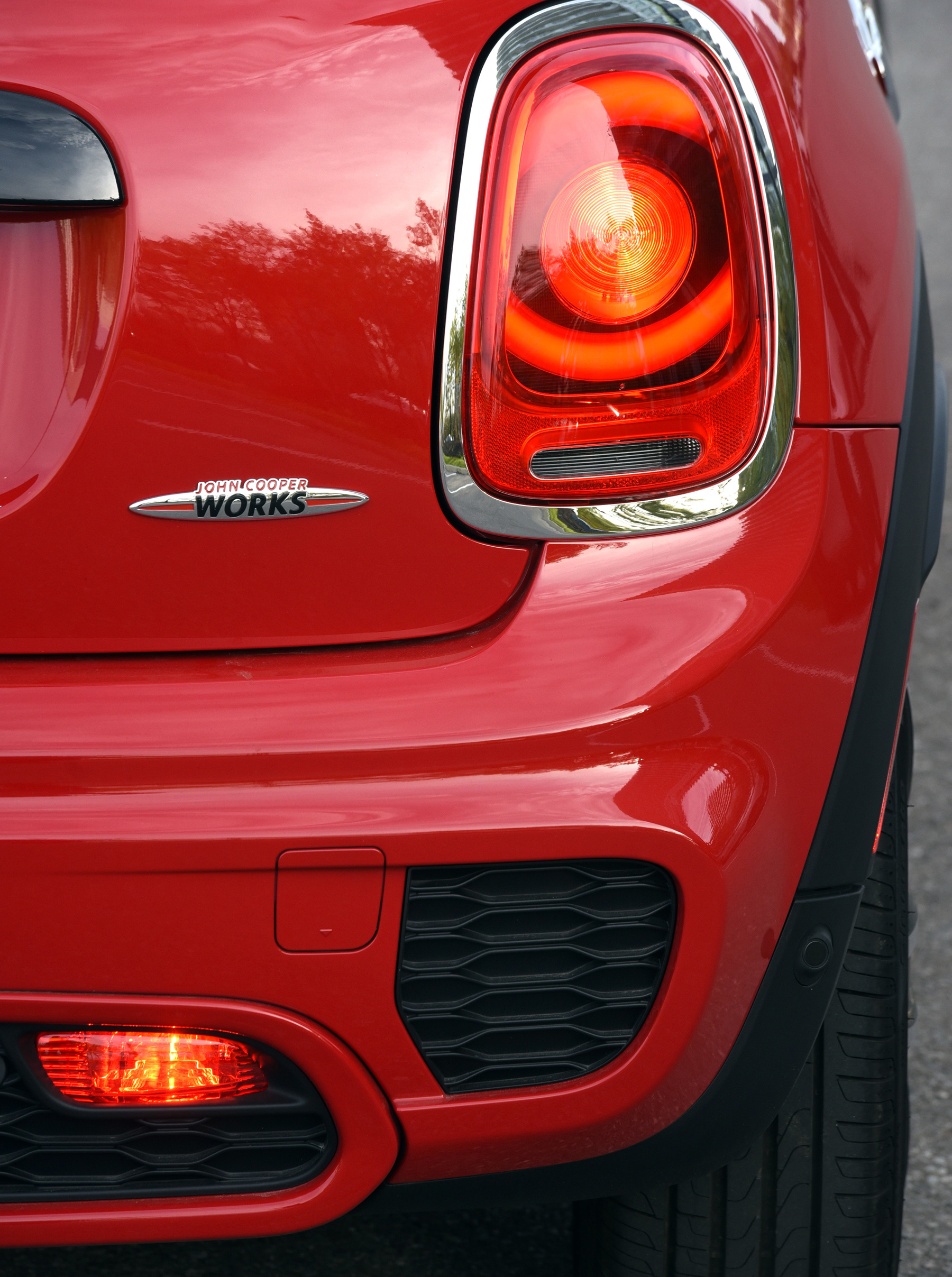 John Cooper Works badging separates this hot rod model from the rest of the MINI herd.
But any argument over the comparative merits of other hot hatches, say the Abarth, Fiesta ST or GTI, all of them, by the way, with inferior power-to-weight ratios and varying price and content levels, is really irrelevant.
That's because JCW fans are not looking for the ultimate hot hatch.
They're looking for the ultimate MINI.
The JCW model builds on the intrinsic chassis and bodywork qualities of the MINI Cooper, backed by BMW's engineering expertise, and it starts with a tweaked version of the 2.0-litre 16 valve Twin Power Turbo four-cylinder engine making 228 hp and 236 lb/ft of torque that comes on strong from a low 1,250 rpm.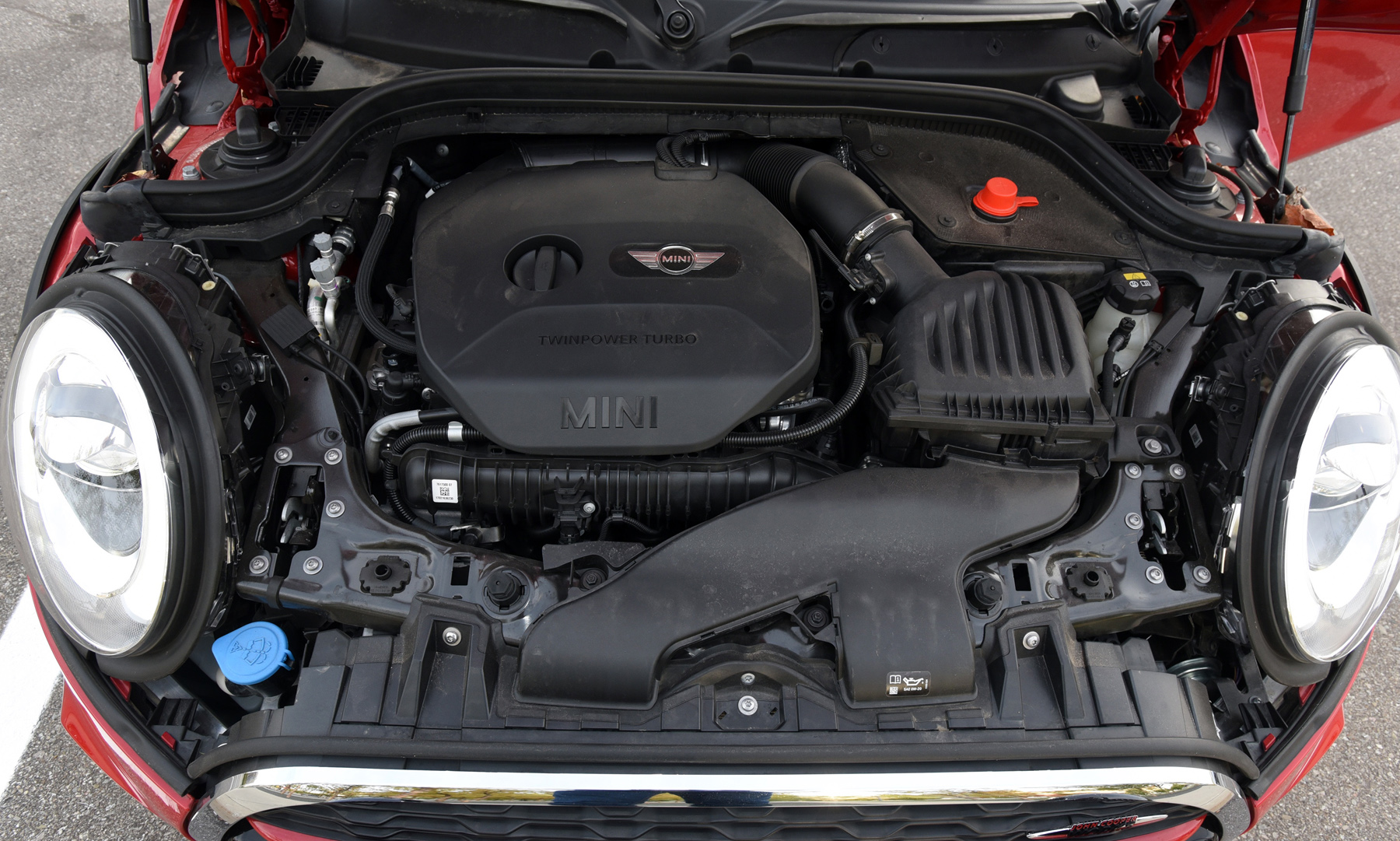 Under the hood is a tweaked version of MINI's 2.0-litre Twin Power four cylinder makes 228 hp and 236 lb/ft of torque, boasting a 0-100 km/h time of 6.1 seconds.
--
This mill pulls with gusto, butt-hauling from 0-100 km/h in 6.1 seconds, two seconds quicker than a base MINI Cooper.
And it channels that power through a standard six-speed manual or, tested here, an optional six-speed automatic ($1,650).
There are three drive mode choices - Green, Mid and Sport. And, straying into thrift territory for a moment, yes, the car idles about town at a low 1,500 rpm. And, yes, you can get by on mid-grade gas. And, yes, the Green eco setting might improve on the rated 9.3/7.2L/100 km (city/hwy) rating. My average worked out to 9.1L/100km (comb), even with occasional bouts of hooliganism.
But, while eco options are fine and dandy, they seem self-defeating in a performance-oriented model like this, especially when Sport mode sharpens steering and engine response so nicely. Even the exhaust bellows a bigger tune.
And the John Cooper Works trim level adds more performance accents including:
• JCW aerodynamic kit and rear spoiler
• Sport suspension
• LED headlights
• Anthracite (black) roofliner
• JCW leather-wrapped steering wheel
• JCW sport seats
•JCW 17-inch Track five-spoke silver wheels
• Media Connect with Bluetooth & USB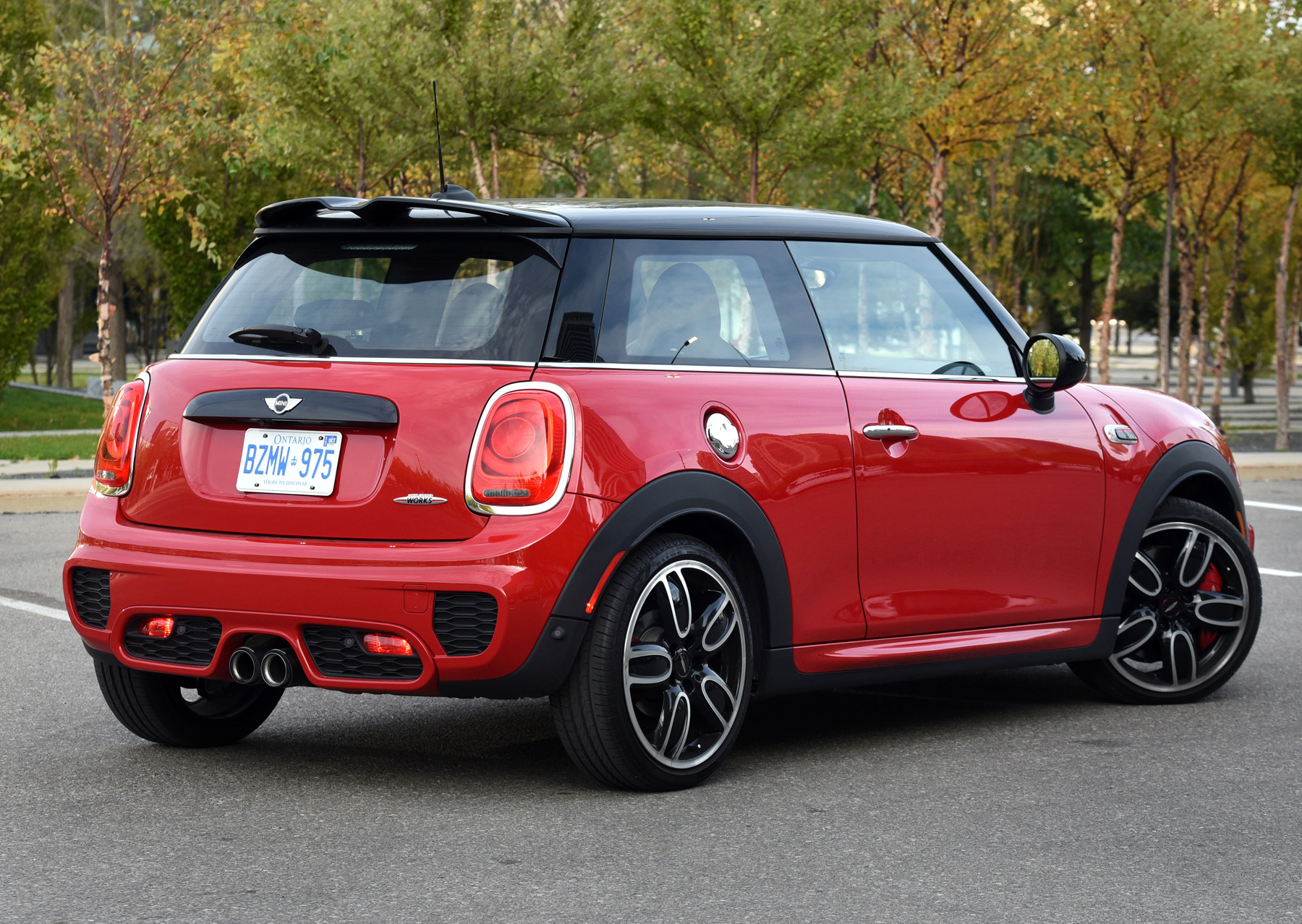 The rear angle shows the standard JCW spoiler, unique aerodynamic kit and special carbon fibre tailpipe finishers.
--
Our tester is not shy about bumping up content further with packages and stand-alone options adding rear view camera and park distance control, panoramic sunroof, 8.8-inch touchscreen with nav, Harmon Kardon audio, piano black trim and more, also bumping up the price to $46K.
But, what the heck, why not go all out to $50K with $4,195 worth of accessories – JCW Pro Exhaust with carbon fibre tailpipe finishers, funky checkered flag motifs on floor mats and sill strips, and added rally lights (that I never quite figured out how to turn on).
With everything but the kitchen sink thrown in, this delicious mix of optional overkill maxes out the MINI-ness of this John Cooper Works hot rod to a delightful sum total greater than its endless list of parts.
It's fun to drive, even fun to just sit in, snug in the sport seat, admiring the ambiance, the checkered flag motifs, the funky controls, a starter toggle that is umpteen degrees cooler than a starter button, the kitschy-lit gauges and the round centre display bigger than a fat man's dinner plate.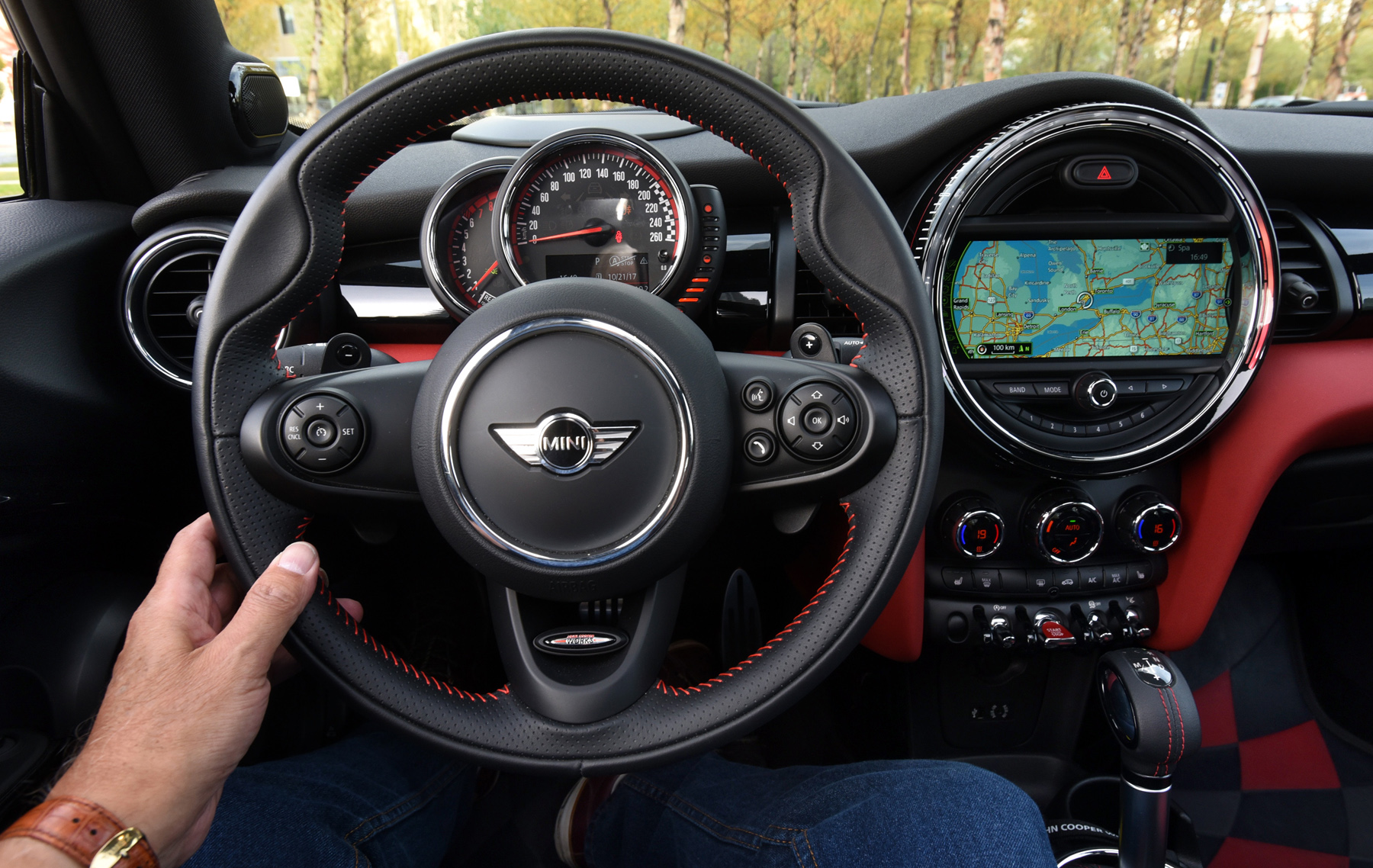 Real racing spirit is found inside the MINI JCW with toggle switches, MINI's funky round-themed display screens and gauges, sport accents, wraparound sport seats, checkered flag floor mats and more.
--
The rear seat may be a funny practical joke to play on your friends but the MINI is comfy up front, DINK heaven for young singles or couples looking to add a performance tingle to the numbing daily commute grind.
Expect only a few modification on upcoming 2018 MINI models – a $250 price increase, rear view cameras and PDC made standard, as should be, along with some new colours and other tweaks.
No noteworthy changes to be made, really.
But, even so, should the chance arise for a 2018 test of, say, another John Cooper Works…
"I'll take it."